Ballycoog National School is a recognised Active School and has been awarded the Active School flag. In our school physical activity is valued, promoted and enjoyed by all. To achieve this Active School status we focused our attention and made improvements in three key areas- Physical Education, Physical Activity and Partnerships.  Read on to get a little insight into each of these areas in our school.
Physical Education (PE)
In our school we...
Promote the message that children need 60 minutes of physical exercise daily
Promote PE homework once a week
Encorporate the Move Well Move Often initiative in our teaching of PE
Enable opportunities for each teacher to work with all children

Mr. Byrne's main area of interest is GAA
Ms. Ryan's main area of interest is athletics and orienteering
Mr McGee's area of focus is in games

See that staff regularly attend CPD training in areas related to PE
Cater for children with all needs and abilities

Freedom in vast outdoor space to roam while supervised
true sensory stimulating environment
playground with appropriate equipment
lessons differentiated to cater for all

Teach all 6 strands of PE annually while prioritising a different strand each year- games, athletics, orienteering, gymnastics, dance and swimming
All classes have the opportunity to attend a yearly 6 week swimming session in the local swimming pool.
Teach the PAWS  (Primary Aquatics Water Safety) programme each year
Give children access to PE equipment during their breaks
Play music on yard at break to promote dance and movement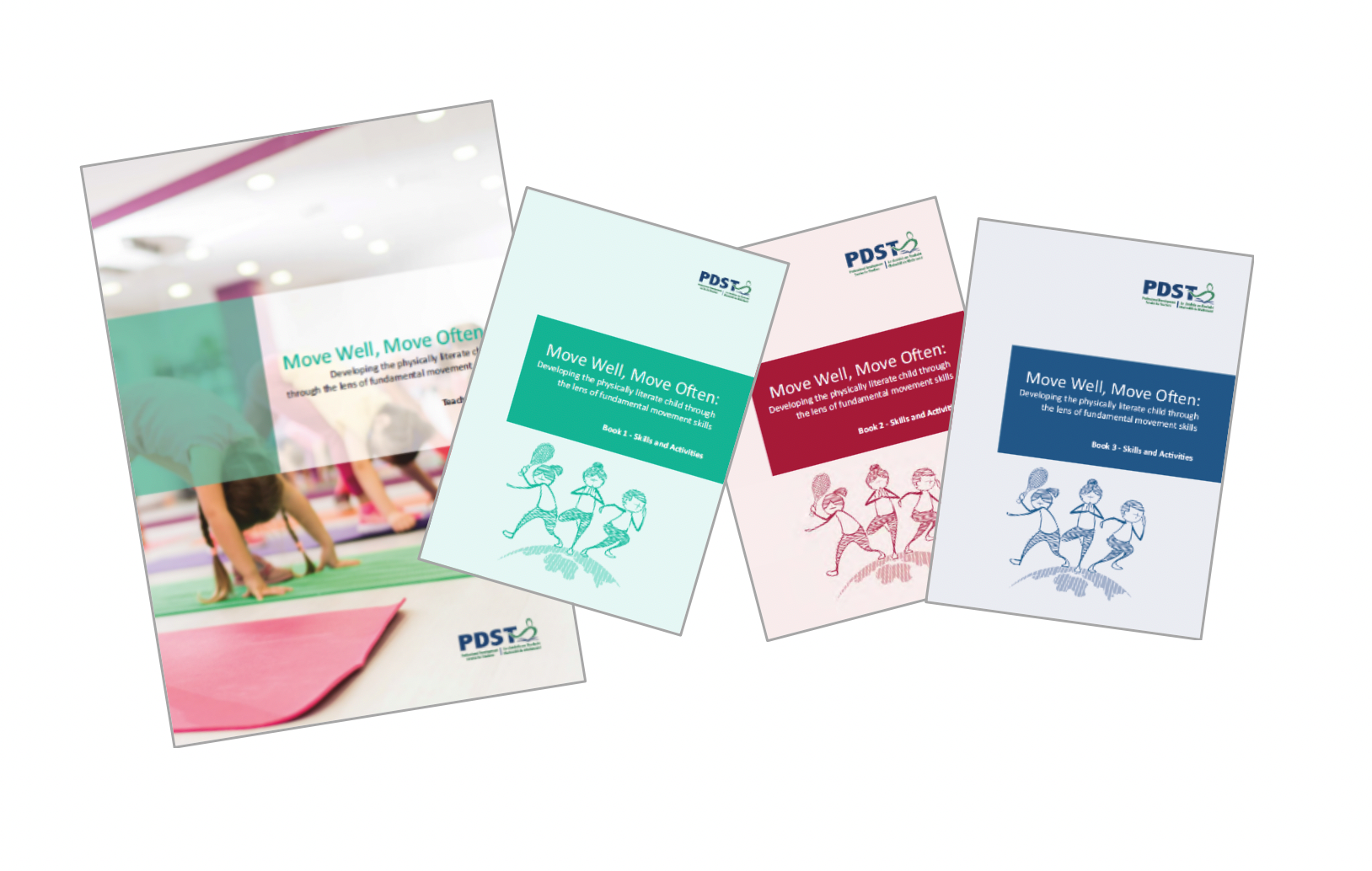 Physical Activity
We in Ballycoog National School...
Provide a signposted Active School walkway
Provide daily opportunities for kids to run on the 400m running track

beginning of school day
transition periods between lessons

Have excellent playground facilities to keep children constantly on the move including

monkey bars
tree house with ladder, slide and climbing wall
four swings
basket swing
mud kitchen area

Play games of tag rugby, hurling, Gaelic football or set up athletic races and obstacles courses on our large grass pitch.
Get busy in our school orchard and vegetable garden

Children help maintain, cultivate, grow and develop the school orchard and vegetable garden

WOW- Walk on Wednesday prior to the start of the school day

A weekly occurrence
Parents get involved

Provide playground breaktime organised activities

Teachers and pupil leaders help teach and demonstrate energetic and fun games at breaktime
Provide rainy day physical exercises within the school including:

Go Noodle
RTE Jr 10 @ 10
The Body Coach TV (Joe Wicks)
Yoga

Organise trips to local amenities

Walk to the Mottee Stone and Avoca Mines
Annual hike to the summit of Croghan Kinsella (606m)

Organise a yearly 6 week swimming session in the local swimming pool for all pupils from infants to 6th
Play music at breaktime to encourage pupils to dance and keep moving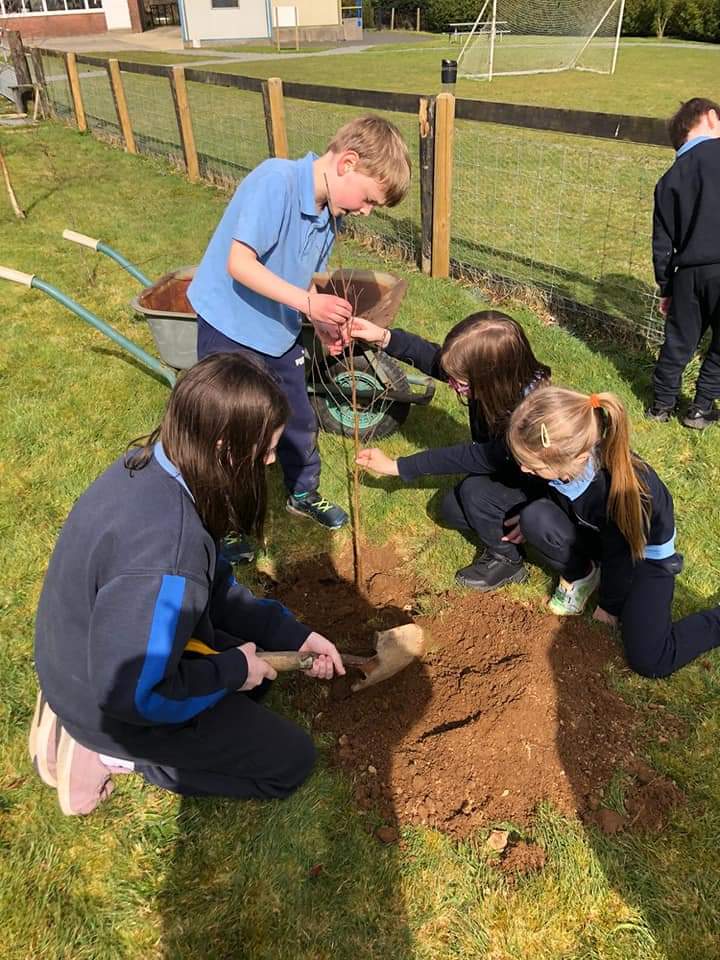 PARTNERSHIPS
The school is delighted to work in partnership with Wicklow GAA to deliver gaelic football coaching and with Leinster Rugby in the delivery of school wide rugby coaching.
Each year the school encourages pupils to travel to a variety of athletic events organised by the Wicklow Schools Invitational Athletics. Events include track and field at Shoreline Sports Park, Greystones, a 3k trail run and cross-country relay races at Avondale House and Forest Park, Rathdrum.
Children from our school are regular supporters of the Arklow Duck Pond junior parkrun (Y14X753)- A weekly free 2k timed event for 4 to 14 year olds every Sunday at 9.30am.
Active School Weeks
Active School Week
Each year we run an Active School Week filled with a broad variety of fun physical activities.
Some of these activities include our hang tough challenge in our school playground, a trail walk and quiz around the village of Ballycoog, a tag rugby blitz and an impressive hike to the summit of Croghan Kinsella (606m). All pupils from junior infants to 6th class take on Croghan hike.

Active Home Week 2020
On account of schools being closed due to the Covid-19 pandemic, this year's Active School Week became an Active Home Week!  We challenged our students to do 60 minutes of physical activity daily for the week.  Students were provided with Challenge Charts and lots of ideas as to how they could be active in fun ways.  Thank you to parents for sending us wonderful photos of the students enjoying Active Home Week.  A big WELL DONE to the students for participating and for keeping such a positive attitude during this time.  The World Health Organisation recommends that young people should be engaged in 60 minutes of physical exercise every day for their phyiscal and mental health so keep up the great work children.

Active School Week 2019
Welcome to our first Active School Week.  Children came to school wearing their P.E. tracksuit and sports shoes every day for an action packed week of physical activity.
Children participated in a different physical activity every day including; Lunchtime Running Club, Go Noodle, RTE Junior 10@10,  P.E. and more.  The Student versus Teachers Hang Tough challenge proved very popular!  Our weekly WOW day (Walk on Wednesday) took place during Active School Week with an extra special turn out and effort by all.  Thank you to all the parents and siblings who joined us on our walk to school from Ballycoog Church car park.  The newly laid path along the road to school made for a safer and more enjoyable walk.  The end of Active School Week does not mark the end of the school's focus on physical health - we have further plans to promote physical pursuits for the remainder of the term;
Daily lunchtime Running Club
Weekly WOW days
Swimming lessons weekly from 9th May
Track and Field event hosted by Wicklow Athletics in Shoreline Leisure Greystones on 15th May
Hike up Croghan Hill on 5th June
Annual Sports Day in June
Please keep an eye on our Facebook page for regular updates, photos and videos of all of these activities. Many thanks to our Active Flag co-ordinator, Ms. Ryan, for organising many  of these activities.